This page renewed! please move to
https://chakrawork.jp/masumi/yogini-masumi-english/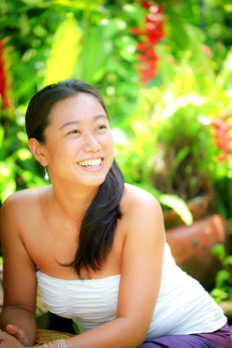 *Sorry my site is mostly written in Japanese, but if you are interested about my yoga class or Therapy, please contact me by
email
. Ill replay you by English. Thank you!
Masumi Lacoste
Dviya Jodi

Founder of Chakra work Association
Member of Yoga Therapist of Japan
Yoga Alliance yoga teacher with OYG RYT200
Authorized yoga instructor by VYSA
Member of Maternity Yoga of Association of Maternity yoga of Japan
Baby yoga instructor by Umi-no-ie
Masumi is a Japanese woman based on Ubud, Bali now. I am the Founder and Director of Chakra Work Association in Japan. Chakra work focuses on the techniques to awaken the 7 chakra energies and help one understand their purpose in life. These techniques, mysteries of Himalayan Kriya yoga learned from Pilot Babalji, combined with breathing techniques, meditation, dance and mantras make up the core of her teaching. I am holding the 7 Chakra Work Teacher Training courses and retreats aa lot in Bali and Japan.
Message:
Through yoga my life has become bright, exciting and fun while helping me to keep things simple and in perspective. It's helped me to focus on things that are important while letting go of things that aren't.It's my hope to share what I have experienced that we may grow richer through yoga together.


2002 Started Yoga
2005 Became an Instructor of Padma Yoga group in Kyoto
2006 Best Practice Award from the International Yoga Asana Kyoto Association
2008 Authorized yoga instructor by VYASA
2008 Completed the Maternity Yoga Association of Japan's training course
2008 Completed Modern Reiki course
2009 Studied in the Himalayas under Samadi Yogi Pilot babaji, received Deeksha and Holy name 2010
2010 Gave birth to my daughter
2010 Became an authorized yoga therapist by Yoga Therapy of Japan (YTIC)
2010 Completed Postnatal Yoga course of the Maternity Yoga Association of Japan
2010 Training course completion of Instructor of Baby and Mom yoga sponsored by Umi-no-ie
2011 Completed Thetahealing Basic DNA course
2011 Completed Thetahealing Advanced DNA course
2012 Holding own Chakra retreat at Ubud Bali
2012 April. Move to Ubud Bali
2013 Jul. Holding Chakra sailing retreat Hervey bay in Australia
2013 Oct. Holding Healing retreat at Shigi Mt. in Nara Japan
2013 March Holding own 7 Chakra retreat Vol.2 at Ubud Bali
2013 April Trained Craniosacral work/ Basic, Mechanical, Biodynamics
2013 June Holding own 7 Chakra retreat Vol.3 at Ubud Bali
2013 Oct. Holding own Kumano retreat in Kumano Japan
2014 Feb. Holding own Chakra work teacher training in Ubud
2014 March Holding own 7 Chakra retreat Vol.3 in Gili air and Ubud Bali
2014 May Holding Tenkawa retreat in Nara Japan
2014 June Holding Goddess retreat in Ubud
2014 July Completed basic "Satou" lymphatic face care and full body muscle release technic
2014 Sep. Holding own Chakra work teacher training in Kyoto @Tamisa
2014 Oct. Holding Okinawa chakra retreat in Okinawa Japan
2015 Feb. Holding own Chakra work teacher training in Ubud
2015 Completed the Yoga Association of OYG 200 hrs training course in Bali
2015 March. Holding own Descending Chakra retreat in Jasri Bali
2015 May Holding Tenkawa retreat in Nara Japan
2015 May Facilitate Pyramid center retreat in Yamanashi Japan
2015 June. Holding own Basic Chakra work teacher training in Osaka Spirit Studio
2015 Sep. Holding Chakra retreat in Asuka Nara
2015 Sep. Facilitated for Satsang Yofa Festival in Okinawa
2015 Nov. Facilitated for Murkiest yoga festival in Malasia
2016 Feb. Holding own Chakra work teacher training in Bali
2016 March. Holding 7 Chakra & music retreat in Bali
2016 April. Holding Chakra etreat in Kumano Nara Japan
2016 May. Japan tour with Liza "Kirtan & chakra Japan tour"
2016 June. Holding own Basic Chakra work teacher training in Osaka with Om yoga group
2016 June. Holding own Chakra work teacher training in Okinawa
2016 July. Holding own Chakra work & Ayurveda retreat in Padova Italy


--


Questions:
Q. We know a little of your background from what we see in the website, but what would you say is the turning point in your life? Or was there one and at what period of time was it at?
A. Yes, on March 11th, 2011. After the big tsunami that damaged the Fukushima nuclear power plant, I realized people have to awaken to real inner peace and I had to take some kind of action now. I was inspired to deepen my study of chakra work and to share that knowledge.
Q. What was it about Bali that attracted you? And how long have you been there? Besides being from Japan, which place would you say occupies a greater place in your heart?
A. I love Japan but when I'm in Ubud I can meet people from many countries. I also have the chance to learn many different kinds of energy work. And I love tropical fruit! I also love to see the colorful Balinese ceremonies.
Being away from Japan reminds me of how special it is. I love Japanese people. They are so kind to each other and really know how to live in harmony with one another. There are so many beautiful historic places in the mountains, beautiful beaches in the south (like Okinawa) and, I feel, the best food in the world.
Q. What would you say is your guiding philosophy for life/perhaps your mission/vision?
A. My mission is connect people through love, chakra work and music. To guide them to their inner peace. Only through inner peace can we achieve world peace.
Q. Why do you choose to focus on chakras? Are there any that you consider to be of greater priority than others?
A. I study the anatomy of the chakras, not only the spiritual side. And I don't focus only on yoga technics but also many healing technics and Kirtan, dance and so on. I feel a holistic approach is the best way to improve ourselves.
Q. What are some of the objectives you have in mind for your workshop or in other words what can someone coming to your workshop expect to learn? What could be their takeaway?
What do you hope to see and who would be your target audience ?
A. By focusing on emotional release and our own inner peace I hope to help people be more loving to themselves and those around them.
Q. What do you see for yourself in the near future...are there other areas you'd like to pursue?
A. I'm always looking to further my studies and broaden my horizons through travel and connecting with people from all over the world.